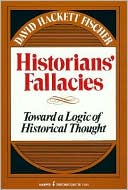 David Hackett Fischer. Historians' Fallacies: Toward a Logic of Historical Thought. New York: Harper & Row, 1970. xxii + 338 pp. [Cf. previous post.]
This excerpt from chapter 1, "Fallacies of Question-Framing," argues that the question "Why?" is often imprecise (pp. 12–14, numbering added):
The fallacy of metaphysical questions is an attempt to resolve a nonempirical problem by empirical means. . . .
Some historians of a humanist bent will protest that all historical problems are metaphysical problems. This is humbug. . . .
These are urgent questions, and they are empirical questions, which can be put to the test. The reader will note that none of them are "why" questions. In my opinion—and I may be a minority of one—that favorite adverb of historians should be consigned to the semantical rubbish heap. A "why" question tends to become a metaphysical question. It is also an imprecise question, for the adverb "why" is slippery and difficult to define.
Sometimes it seeks a cause,
sometimes a motive,
sometimes a reason,
sometimes a description,
sometimes a process,
sometimes a purpose,
sometimes a justification.
A "why" question lacks direction and clarity; it dissipates a historian's energy and interests. "Why did the Civil War happen?" "Why was Lincoln shot?" A working historian receives no clear signals from these woolly interrogatories as to
which way to proceed,
how to begin,
what kinds of evidence will answer the problem, and
indeed what kind of problem is raised.
There are many more practicable adverbs—who, when, where, what, how—which are more specific and more satisfactory. Questions of this sort can be resolved empirically, and from them a skilled historian can construct a project with much greater
sophistication,
relevance,
accuracy,
precision, and
utility,
instead of wasting his time with metaphysical dilemmas raised by his profound "why" questions, which have often turned out to be about as deep as the River Platte.