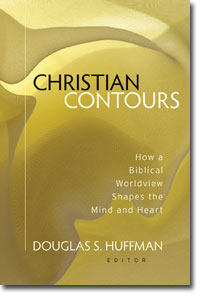 This book came out this month:
Douglas S. Huffman, ed. Christian Contours: How a Biblical Worldview Shapes the Mind and Heart. Grand Rapids: Kregel, 2011.
Huffman explains,
For several decades, the integration of faith and learning has been a major topic for Christian higher education. Robert Harris argues correctly that Christians need to think about this intentionally. But such intentionality is actually artificial, made necessary only by our sinfulness. Humans naturally integrate everything, trying to make things fit into a coherent system.
If I told you that I had breakfast on Mars this morning, you would try to fit this claim into the beliefs you already hold about the universe. Perhaps you would select one of these options:
(a) Huffman had breakfast at a new restaurant called "Mars";
(b) Huffman had breakfast while riding a horse named "Mars"; or
(c) Huffman is deluded.
Your set of beliefs about the world as you know it would not allow you to believe that I actually had breakfast on the planet called Mars.
This illustrates our propensity to combine all of our knowledge and beliefs into one overarching system. Continue Reading…