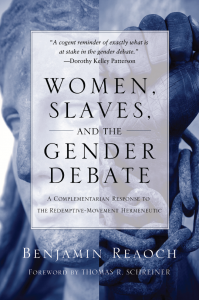 Five months ago I highlighted Don Carson's critique of William Webb's trajectory hermeneutic (copied at the end of this post).
Now there's a more comprehensive, book-length critique:
Benjamin Reaoch. Women, Slaves, and the Gender Debate: A Complementarian Response to the Redemptive-Movement Hermeneutic. Phillipsburg, NJ: Presbyterian & Reformed, 2012.
It revises Reaoch's PhD dissertation at Southern Seminary under Tom Schreiner, who writes the foreword.
Reaoch makes several arguments:
Slavery and the role of women are two critically different issues.
The NT neither condemns nor commends slavery.
Gender passages apply transculturally because they are rooted in creation.