Here's a mid-year update for family and friends on some recent changes in the Naselli home. (I've lost track of whom I've told what at this transitional time, so this post should fill in the gaps!) God has been so good to us—far better than we deserve!
1. Family
1.1. Kara Marie!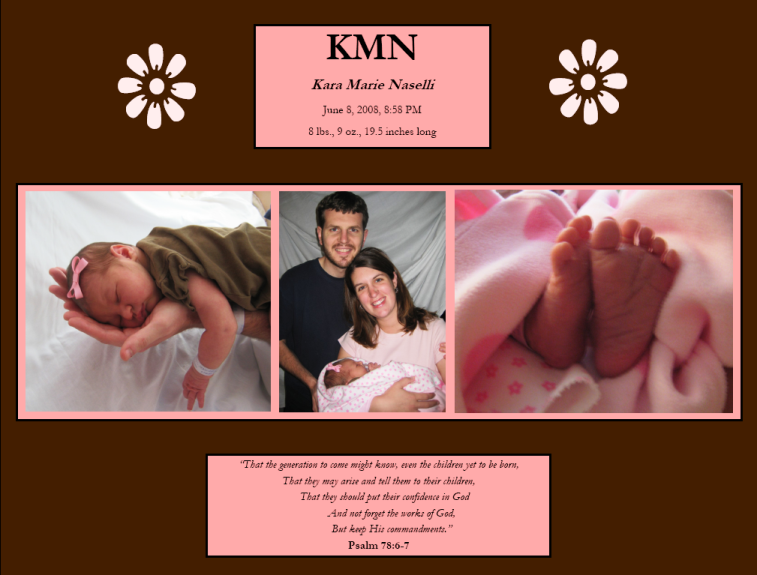 We are grateful to God to announce the birth of our first child: Kara Marie Naselli! She was born on June 8, 2008. (Click here to view a PDF of our birth announcement.) She's healthy and beautiful! We are so joyful and grateful. (More details and pictures are available on our password-protected family blog.)
1.2. Jenni
Jenni is now a stay-at-home Mom! She has yearned to have her very own children since she was a little girl. She babysat all through high school and college, earned a degree in Early Childhood Education, and then taught young children full-time until three days before Kara Marie was born. She's been taking care of children belonging to other people for about thirteen years, and she has unselfishly served me by teaching full-time for the first four years of our marriage. She is eager to rear her own children, and I'm so thrilled that she is realizing her godly ambition for the high calling of wife and motherhood! I thank God for my wife.
1.3. CrossWay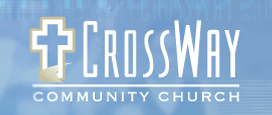 We are getting more connected at CrossWay Community Church, a deliberately gospel-centered assembly. We hope to join a care group shortly. I've especially enjoyed being part of Mike Bullmore's "ministry trajectory group" that meets monthly in his home; his humble wisdom is so edifying.
2. School

2.1. Completed
By God's grace I've completed my coursework that I began in August 2006! So I've completed all of the requirements for languages and classes for Trinity's PhD program, which has been rigorous, enlightening, and edifying.
2.2. Remaining
Next up are comprehensive exams and a dissertation.
I hope to take my comps in the fall. This consists of a four-day battery of exams covering the spectrum of NT exegesis and theology, including sight-reading the Greek NT and correlating the NT's historical and literary context with exegesis, biblical theology, historical theology, and systematic theology, with a bit more weight placed on my corpus (Paul's letters). Who is adequate for these things?! This is probably the most daunting and humbling part of the PhD program!
The dissertation process begins with a "dissertation proposal hearing," which I hope to have at the beginning of 2009. Once the project is approved, I become a PhD "candidate." After writing the long paper, I must successfully pass a "dissertation defense."
3. Work/Ministry
3.1. Yarbrough, Greek, Trinity Journal

I'm no longer serving as Robert Yarbrough's teaching assistant (that was only a two-year arrangement) nor teaching Greek as part-time faculty. I will, however, continue on the editorial board for Trinity Journal (edited by Robert Yarbrough).
3.2. Carson
I'm still serving as D. A. Carson's part-time research assistant (I started in August 2006), but the exciting news is that beginning August 4, I will serve as DAC's first full-time research assistant! This is a long story, but the short version is that the Lord has provided for this job for at least the first year through some generous donors. Ideally, this will be at least a two-year arrangement if funding is available. I'm so grateful to serve the church by serving DAC, leveraging his astonishing productivity just a bit more.
3.3. Themelios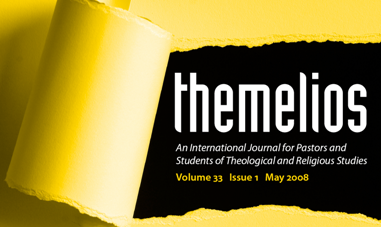 I've been serving as administrator and interim managing editor for Themelios since March 2008, and I'll continue serving as administrator while working full-time for DAC, who is the journal's new editor. The first issue has been ready for publication since May, and it will be published online with the imminent launch of the new website for The Gospel Coalition. [Update: The first issue is available as a PDF.]
3.4. Editing and Writing
I've been doing a bit of part-time copy-editing and working on projects, articles, and reviews. The most time-consuming project at present is editing an abridgment of D. A. Carson and Douglas J. Moo's 781-page An Introduction to the New Testament (a project for Zondervan, independent from my work for DAC).
3.5. Scholarship
I'm so grateful to receive the Hansen Fellowship in 2008–09. This may involve a small amount of work for the Henry Center during the school year.
3.6. Preaching
A church about eighty minutes away is without a preaching pastor, and I and three other friends recently began serving as an interim preaching team. (None of us could commit to serving as the sole interim preaching pastor, so we proposed this alternative.) We are currently preaching through 1 Timothy, and the general rhythm is that each of us preaches twice every eight Sundays (two weeks on, six weeks off) until the church finds a pastor.
"What do you have that you did not receive?" (1 Corinthians 4:7)
"Give thanks to the LORD, for He is good; / For His loving-kindness is everlasting" (1 Chronicles 16:34; Psalm 107:1; 118:1, 29; 136:1; cf. 106:1; 2 Chronicles 7:3; Ezra 3:11).
We would be grateful for your prayers, namely, that we would be good stewards of God's varied grace, serving with the strength that God supplies, so that in everything God will be glorified through Jesus Christ (1 Peter 4:10).